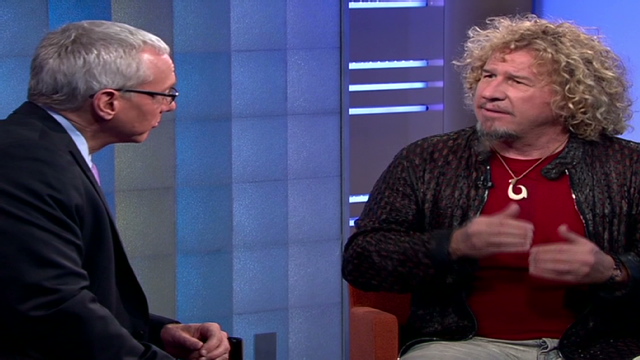 Dr. Drew
April 4th, 2011
Dr. Drew tonight on HLN at 9p ET/PT
Dr. Drew Pinsky, one of America's most talked-about doctors, brings his expertise on extreme—and extremely human—behavior to a new nightly series on HLN.  Dr. Drew (Mon-Fri, 9-10 p.m. ET/PT) explores the fundamental question 'why do we do what we do?' establishing a connection between people at the core of the news conversation and the real lives of HLN viewers.
Premiere night guests include rocker Sammy Hagar discussing his recent book, revelations about his childhood and struggles with addiction and relationships (see above video clip for a sneak peek).  Also in the spotlight, the weekend's recap on Charlie Sheen and his Detroit and Chicago debuts. Joining the conversation are adult film star Kacey Jordan, who was in the audience at the Detroit show; KROQ and LOVELINE host Psycho Mike Catherwood; and Showbiz Tonight's Kareen Wynter, who covered the story all weekend. Clips will be distributed after the show each night.
Dr. Drew is thoughtful and thought-provoking, offering his genuine expertise to people struggling in the spotlight, making the discussion relatable to those struggling outside of it.  He de-mystifies the motivations behind behavioral issues, placing the human at the center of the story.  Through intimate discussions with guests, Dr. Drew tackles a broad range of topics on human behavior.
In addition, Dr. Drew connects directly with viewers and users via digital platforms, including Twitter (@DrDrewHLN), Facebook (Dr. Drew HLN) and CNN.com (www.cnn.com/DrDrew).
Dr. Drew on HLN, the network dedicated to covering news stories that hit home, joins the primetime line-up of Nancy Grace at 8 p.m. ET/PT and The Joy Behar Show at 10 p.m. ET/PT.