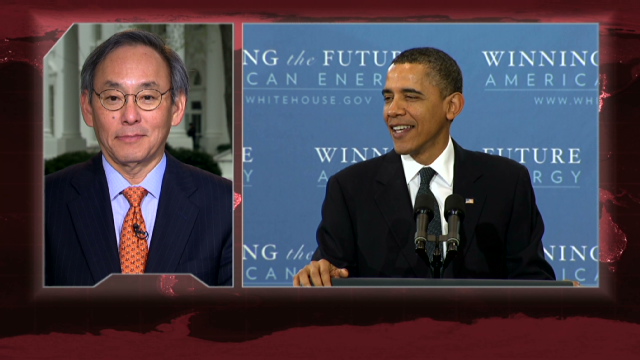 The Situation Room with Wolf Blitzer
March 30th, 2011
Secretary Chu on the President's Nobel Peace Prize
Energy Secretary Steven Chu, spoke with CNN anchor Wolf Blitzer about his Nobel Peace Prize, events in Japan and Yucca Mountain. This full interview will air during the 5 p.m. hour of The Situation Room with Wolf Blitzer on CNN today.  A full transcript will be available after the program on CNN.com.  A highlight and a video from the interview is after the jump.
Please credit all usage of the interview to CNN's The Situation Room with Wolf Blitzer
Highlight from Full Interview
THIS IS A RUSH FDCH TRANSCRIPT. THIS COPY MAY NOT BE IN ITS FINAL FORM AND MAY BE UPDATED.
(BEGIN VIDEO CLIP)
BARACK OBAMA, PRESIDENT OF THE UNITED STATES:  Chu's the right guy to do this.  He's got a Nobel Prize in physics.  He actually deserved his Nobel Prize.
(LAUGHTER & APPLAUSE)
OBAMA:  And this is the kind of thing that he likes to do for fun on the weekends.  You know, he goes into his garage and he tinkers around and figures how to extract natural gas.
(LAUGHTER)
(END VIDEO CLIP)
WOLF BLITZER, HOST:  And joining us now, the aforementioned Energy secretary, Steven Chu.
Mr. Secretary, thanks very much for joining us.
STEVEN CHU, ENERGY SECRETARY:  Oh, thank you.  Glad to be here.
BLITZER:  Is the president right?  You actually deserved the Nobel Peace Prize.  He — he didn't necessarily deserve his?
CHU:  Well, I think he deserved his, but he is being very gracious.  You know, it remains — I think I do, but, you know, you would have to ask the fellow scientists.
BLITZER:  All right, well, it's nice to be praised by the president of the United States like that.
CHU:  Yes.
###