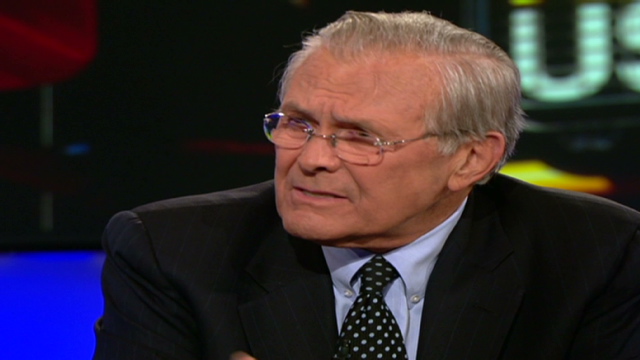 CNN
March 30th, 2011
Former Defense Secretary Donald Rumsfeld on John King, USA
CNN's John King spoke with former Defense Secretary Donald Rumsfeld about Libya, Iraq, 2012 potential contenders and more. This interview will air tonight on John King, USA – 7pm ET. A highlight and a video link from the interview are after the jump.
MANDATORY CREDIT: JOHN KING, USA
EMBEDDABLE VIDEO:  CNN's John King asks former Defense Secy. Donald Rumsfeld about the 2012 GOP field.
HIGHLIGHT FROM FULL INTERVIEW
THIS IS A RUSH FDCH TRANSCRIPT. THIS COPY MAY NOT BE IN ITS FINAL FORM AND MAY BE UPDATED.
FORMER DEFENSE SECRETARY DONALD RUMSFELD: What worries me about the situation is that — that how it's going to turn out depends on what signals we send.  And we're sending somewhat confused signals in this sense.  There's am — ambiguity about whether or not Gadhafi is going to be there when this is over.
And put yourself in the shoes of Gadhafi's military or his — his government people or the citizens.  If — if the rebels are saying we need help, people are going to debate whether to help.  As long as we don't give clarity that Saddam Hu — that Gadhafi will be gone, then there's a problem, because people won't defect from the government.  And — and there will be greater humanitarian disaster…
JOHN KING, HOST, "JOHN KING USA":  Well, the president…
RUMSFELD:  There will be more people…
KING:  — the president said…he has to go.  The secretary of State says he has to go.  The British government says he has to go.  The French government says he has to go.  The problem is, the U.N. resolution under which the military is operating does not say he has to go.
RUMSFELD:  And — and the president of the United States and the coalition have not said that it is their intention that he go.  And that's going to cause hesitation on the part of all kinds of people in that country.
Do they help the rebels or don't they help the rebels?
Do they become part of the rebel effort?
And the longer it goes on in that kind of ambiguity, I think the more people will be killed.
###