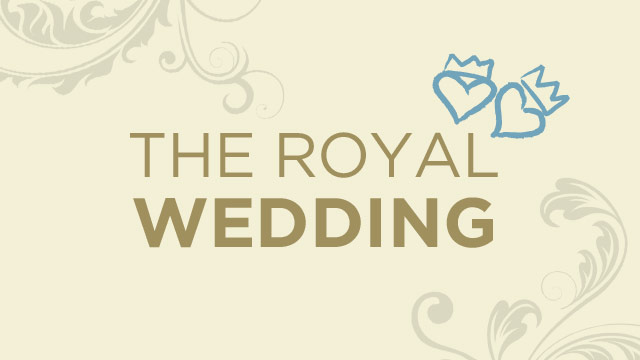 CNN International
March 30th, 2011
CNN International's Royal Wedding coverage plans
CNN provides global multi-platform coverage of the Royal Wedding
H.R.H. Prince William and Kate Middleton
Piers Morgan, Richard Quest, Anderson Cooper and Cat Deeley host CNN Coverage
CNN will air the biggest royal wedding event since HRH Prince Charles married Lady Diana Spencer, from the ceremonial to the personal, from what happens at Westminster Abbey to reaction from around the world, to its global audiences across its multimedia platforms.
On the day of the wedding, Friday 29 April, from 0900 BST, CNN's live programming will be anchored by Piers Morgan, Richard Quest, Anderson Cooper, Kiran Chetry and special contributor Cat Deeley, across CNN / US and CNN International.
The wedding ceremony itself commences at 1100 BST, and CNN guarantees viewers a front row seat to all the excitement with up-to-the-minute news updates and stories surrounding the big day.
CNN will live stream various aspects of the day's events on CNN.com, including views from inside the Abbey as well as the parade, via the CNN Apps for Apple iPhone and iPod touch, iPad and Android tablet.
In the lead up to the big day, Piers Morgan and Anderson Cooper will anchor their nightly programmes from London.  CNN will also broadcast a documentary on Kate Middleton presented by Soledad O'Brien, as well as weekend special programmes from Richard Quest, among others. 
 Highlights of CNN's Royal Wedding coverage includes:
– From Saturday 2 April, at 1400 BST Richard Quest hosts four half-hour special programmes throughout the month, 'A Royal Wedding: The Marriage of William and Catherine' which air Saturdays at 1400 and 2100 BST, and Sundays at 0500 BST.
 – 'The Woman Who Would Be Queen' is a documentary looking at the life of Kate   Middleton, the woman who will someday become Queen of the United Kingdom. Presented by anchor and special correspondent Soledad O'Brien, the programme features Jules Knight, close friend of the couple from the origins of their fairytale romance during their university days at St. Andrews, and Arthur Edwards, longtime royal photographer, who has chronicled the princes' entire lives during his 30-year career at The Sun newspaper.  Edwards has captured the princes' childhoods, how they've coped with the tragic loss of their mother, and their transition into manhood.  The documentary also explores the ways in which the future King and Queen have honoured the life and legacy of Diana, Princess of Wales.  
* 'The Woman Who Would Be Queen' airs on Saturday 30 April at 1400 and 2100 BST,  Sunday 1 May at 1000 BST.
– Tuesday 26 April – Saturday 30 April Piers Morgan will broadcast his nightly show,  'Piers Morgan Tonight' at 0200 BST live from London with a mix of topical guests and newsmakers, airing on both CNN US and CNN International.               
Additionally, CNN International will feature live programming from landmark locations across the capital with Richard Quest for 'Quest Means Business' at 1900 BST nightly and 'Connect the World' at 2100 BST with Becky Anderson.
"Calling upon their years of interviews with the Royal Family, Piers and Richard will share their knowledge and insights across CNN.  Along with CNN's user-generated community of iReporters, CNN is uniquely positioned to share a first-hand account of the Royal Wedding across our networks and platforms," said Tony Maddox, executive vice president and managing director of newsgathering for CNN Worldwide. 
For those away from the TV screen, CNN has launched The Wedding Planner, a special section at www.cnn.com/wedding that includes explainers, profiles, photo galleries, on-demand video from CNN's reporting on the topic, and exclusive content from CNN's royal reporting team. Additionally, CNN has launched 'Unveiled', a blog covering all the chatty details that St. James' palace isn't commenting on – from the great dress mystery to the official iTunes release of the wedding vows, available at www.cnn.com/unveiled.  
CNN iReport, the network's participatory news community which has received a submission from every country on the planet, will contribute to CNN's coverage of the pending nuptials in a wide variety of ways, including:
Royal Wedding assignments – beginning on 22 April, iReport will invite people to share their experiences around the run-up to the event, introducing a series of lighthearted and fun assignments, such as calls for photos or videos of fashionably over-the-top hats and instant reaction to the bride's wedding dress.
CNN Open Story: Royal Wedding – Also on 22 April, CNN will reveal its Royal Wedding-themed iReport Open Story, which feature select photos and videos from iReporters and CNN journalists, placed along an interactive timeline and map to paint a comprehensive picture of the event through the eyes of the many people who experience it.
Facebook users also can stay informed of all aspects of CNN's coverage leading up to and during the event via the CNN Royal Wedding fan page at www.facebook.com/royalweddingCNN.
For further information, please contact:
Joel Brown
Senior Press Officer
CNN Europe, Middle East & Africa
Tel: + 44 20 7693 0967
Email: joel.brown@turner.com