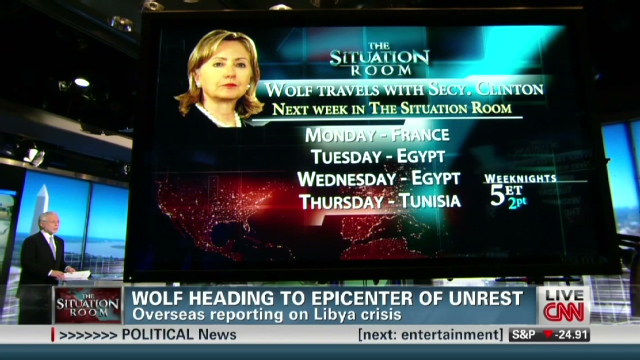 The Situation Room with Wolf Blitzer
March 10th, 2011
Blitzer to Europe, Middle East
CNN's Wolf Blitzer to Travel to Europe and
Middle East with Secretary Clinton
CNN's Wolf Blitzer will travel with Secretary of State Hillary Clinton to France, Egypt and Tunisia next week, March 14 -17. As Secretary Clinton's delegation meets with foreign government officials and participates in G8 meetings, Blitzer will provide live reports, interview newsmakers and anchor The Situation Room with Wolf Blitzer during the trip.
Blitzer is CNN's lead political anchor and is well known for his in-depth reporting of international news. He has reported from cities across the Middle East from Baghdad to Beirut. Blitzer began his career in 1972 with the Reuters News Agency in Tel Aviv and has been a vital component of CNN's coverage of the unrest in Middle East and Africa.
Blitzer is CNN's anchor of The Situation Room with Wolf Blitzer which airs weekdays 5-7 p.m. and Saturday evenings 6-7 p.m. on both CNN International and CNN.
CNN Worldwide, a division of Turner Broadcasting System, Inc., a Time Warner Company, is the most trusted source for news and information. Its reach extends to nine cable and satellite television networks; one private place-based network; two radio networks; wireless devices around the world; CNN Digital Network, the No. 1 network of news Web sites in the United States; CNN Newsource, the world's most extensively syndicated news service; and strategic international partnerships within both television and the digital media.
-30-
CONTACT:
Jennifer Scoggins                 Washington, D.C.                202.515.2947       jennifer.scoggins@cnn.com