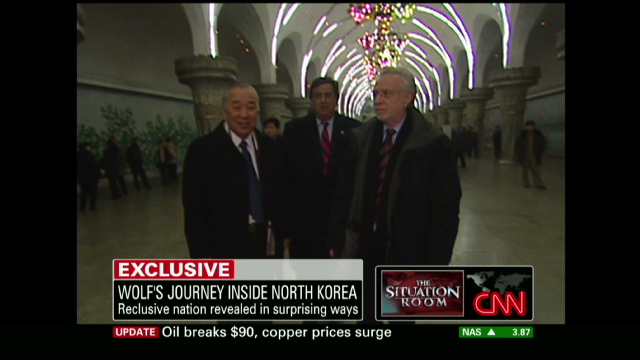 The Situation Room with Wolf Blitzer
December 15th, 2010
CNN's Wolf Blitzer reports from North Korea
As the tension between North and South Korea continues to escalate, CNN's Wolf Blitzer will travel this week to North Korea with New Mexico Gov. Bill Richardson. Richardson, who announced his trip last week, asked Blitzer to join him as the only network journalist. Blitzer will provide reports from Beijing, China and Pyongyang, North Korea.

Richardson, former ambassador to the United Nations and former Secretary of Energy during the Clinton administration, was invited to North Korea by First Vice Minister Kim Gye Gwan, Minister of Foreign Affairs and North Korea's chief nuclear negotiator. Richardson has made several trips into North Korea in the past.
Blitzer is CNN's lead political anchor and the anchor of The Situation Room with Wolf Blitzer. Blitzer joined CNN in 1990 where, among other positions, he served as Sr. White House correspondent, Pentagon correspondent, and the anchor of Late Edition with Wolf Blitzer. In addition to his political coverage, Blitzer is known for his in-depth reporting on international news from around the world for CNN—including Europe, Russia, South Africa, Iraq, Afghanistan, China, Israel, Kuwait, UAE, and Qatar.